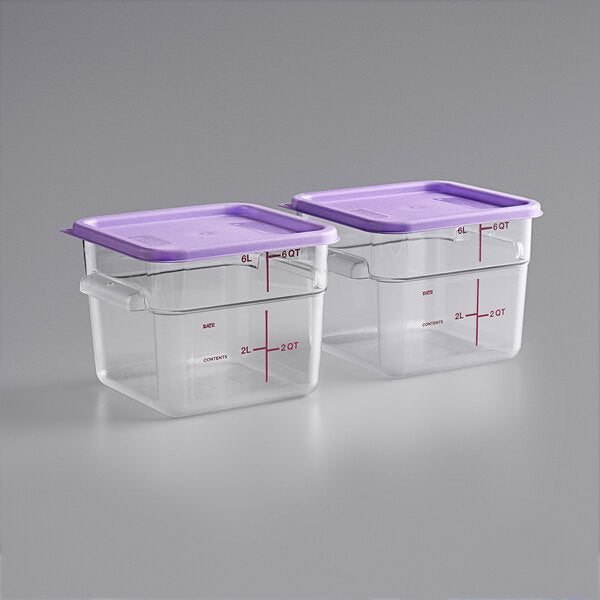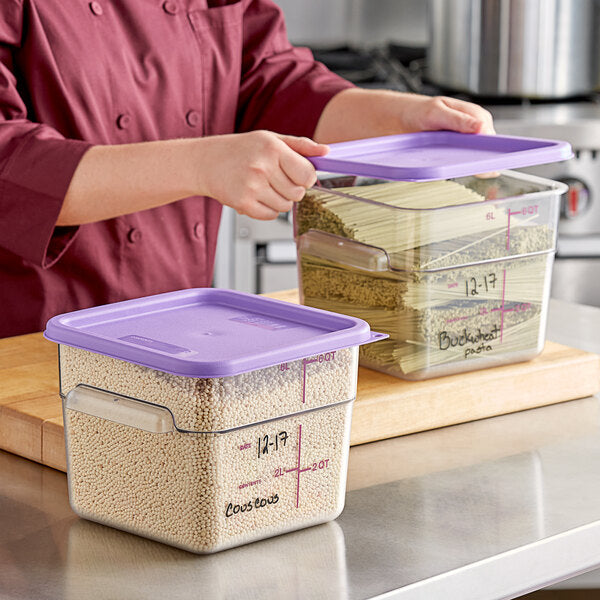 6 Qt. Allergen-Free Clear Square Polycarbonate Food Storage Container and Purple Lid - 2/Pack
Introducing a durable and practical allergen-free food storage container, designed to meet the demands of a commercial kitchen, but also perfectly sized for a bag of allergen-free flour at home. With its completely clear construction, purple lid, and large capacity, this virtually unbreakable polycarbonate container ensures long-lasting durability.
The container's easily identifiable purple coloring serves a crucial purpose in your kitchen. The purple color alerts users to keep away from potential allergens. It helps reduce the risk of cross-contamination, providing a simple solution for allergen-free storage.
The square shape of the container maximizes storage space, eliminating wasted space commonly found with standard round food storage containers. It offers up to 25% better utilization of space, allowing you to make the most of your cabinets or pantry.
Overall Dimensions:
Length:8 3/4 Inches, 
Width:8 3/4 Inches, 
Height:7 5/16 Inches, 
Capacity:6 qt.
Holds 1 5-pound bag of flour
Dishwasher safe
The container's square shape maximizes storage space by up to 25% compared to round containers.
Purple lid and graduations are designed to reduce the risk of cross-contamination for allergen-free storage.
The virtually-unbreakable polycarbonate design ensures long-lasting durability.
The included lid securely fits on the containers, keeping contaminants out and preserving food freshness.
The lid features a hanging hole for easy organization and fast drying of lids.