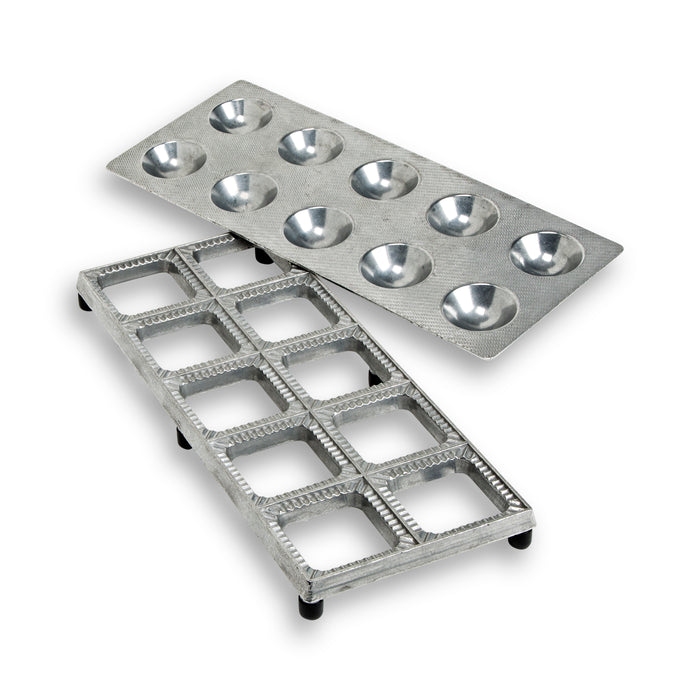 Ravioli Form with Press for 2.5" Square Homemade Ravioli
Makes Ten 2.5 inch Square Ravioli at a Time.
Sturdy Cast Aluminum Construction Rinses Clean; Hand Wash and Dry Well

Soft Non-scratch, Non-slip Feet Protect Counter

MADE IN USA
This ravioli press includes 2 pieces; the base to hold the first layer of dough and the form to create perfectly rounded divots. The base has soft, non-scratch feet to hold it in place on the counter as you work. 
Makes a great accessory to the Italian kitchen pasta rolling machines such as the Mercado, Atlas. The output of the pasta machines fit nicely over the ravioli maker.
DIMENSIONS:
Measures 12.5 H x 5 W

Makes 10 - 2.5" Square Ravioli
TO USE:
Place a sheet of pasta dough over the form and gently use the press to make indentations. Fill pockets with your desired filling and brush edges with water or beaten egg. Place the second sheet of pasta dough over the form and roll a straight rolling pin across the form using pressure so it will seal and cut the ravioli. Includes non-slip, non-scratch feet. Wipe clean. Do not wash with soap or in the dishwasher. .