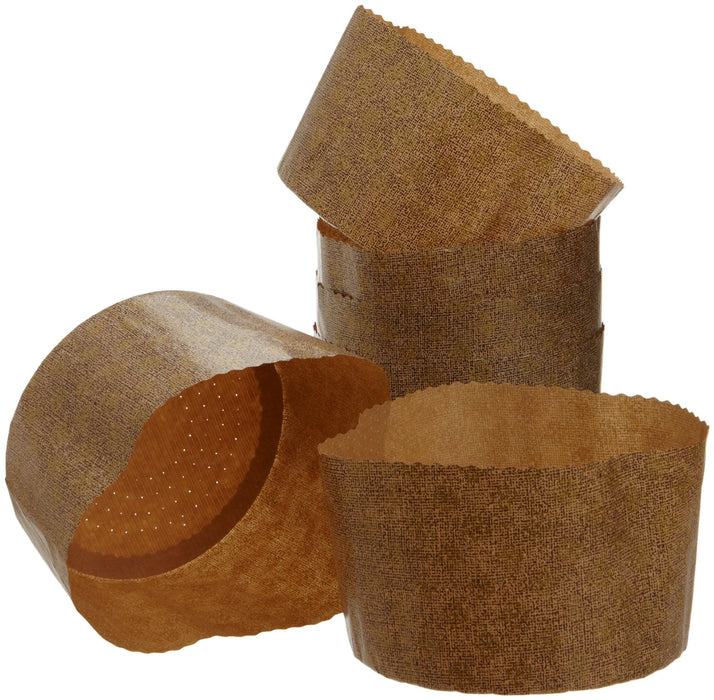 Large Panettone Paper Baking Molds, 6-Pack
Elegant paper bakeware from Italy in classic gold and brown pattern. Perfect for home-baked gifts and commercial bakeries.
6.75 Diameter x 4.25 High Inches
Free-standing Paper Baking Mold for Baking Panettone, Yeast Bread, and Quick Breads.
Corrugated Base with Single-layer Sidewall
Oven safe to 390° F, Microwave and Freezer Safe
Introducing the elegant paper bakeware from Italy in a classic gold and brown pattern. This bakeware is perfect for anyone who loves to bake and wants to make their homemade creations stand out. Whether you're baking for your family or friends, or for commercial purposes, this bakeware is sure to impress.
With a free-standing paper baking mold that measures 6.75 inches in diameter and 4.25 inches high, this bakeware is perfect for baking Panettone, yeast bread, and quick breads. The corrugated base and single-layer sidewall provide excellent support for your baked goods, ensuring that they bake evenly and come out perfectly every time.
This paper bakeware is not only stylish but also practical. It's oven safe to 390° F, microwave safe, and freezer safe, making it easy to store your baked goods and heat them up when you're ready to enjoy them. Plus, the elegant gold and brown pattern will make your homemade creations look like they came straight from a professional bakery.
Whether you're a home baker looking to impress your family and friends, or a commercial baker looking to make your baked goods stand out, this elegant paper bakeware from Italy is a must-have. So, why settle for ordinary bakeware when you can elevate your baking game with this beautiful and practical paper bakeware? Order now and experience the difference!