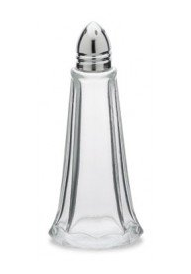 Salt and Pepper Shaker Set of 2, Tower 1 oz Capacity, Chrome Top
The Salt and Pepper Tower Shakers give your salt, pepper, and other spices a unique and interesting look. Not only will it look great at a gourmet meal or dinner party, but it also keeps your spices fresh and your counters clean. 
Great bridal shower, wedding or housewarming gift, and a party favor 

Made of glass, easy to see, clean, and refill

Ideal amount for any size meal or event

Excellent addition to room service trays and service carts for the food industry

Approximately 1 oz.
Set of 2